In the world of digital marketing, Google Analytics is the most powerful and efficient tool to analyze traffic. It helps grow your website or online presence by monitoring your site visitors, generating reports related to your target audience, providing insights from competitors, referring to top channels, and many more functionalities. 
Simply put, Google Analytics is a widely used analytics tool that can accelerate your business and help take appropriate actions to further optimize them. All this is possible only if you know how to set up Google Analytics for your website and use it accordingly. There are two ways to set up and connect Google Analytics to your website, it can be either done manually or if you are using WordPress then with the help of Google Analytics Plugin.
The manual method involves you getting a code from your Google Analytics Account and adding that code in your website Header.php file. The code must be carefully added to every page for it to work else there may be incorrect results. That is why the manual method isn't recommended for beginners and might be the best option for expert users.
The second method is suitable for WordPress users and an easy option. You can use the Google Analytics plugin on your WordPress site or blog.
An ultimate Google Analytics plugin solution like MonsterInsights helps to set up Google Analytics for your website in just a few clicks and provides all necessary information. MonsterInsights is easy to understand and use to analyze site data and can be used by beginners to experts.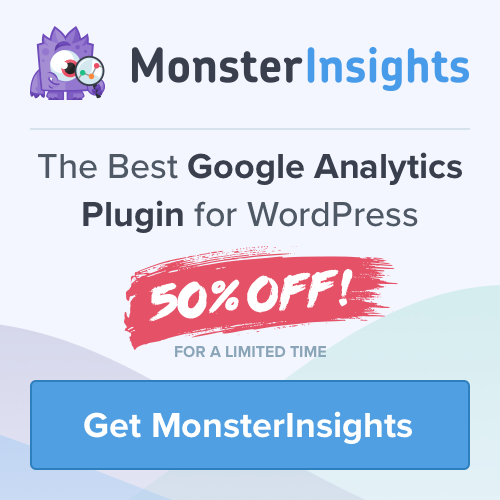 What is MonsterInsights?
MonsterInsights is the best Google Analytics Plugin for WordPress. It was initially developed by Yoast SEO and is known as Google Analytics for WordPress. Later in 2016, it was acquired by Awesome Motive and rebranded as MonsterInsights. 
By using the MonsterInsights plugin on your website, you can access every vital information directly on your WordPress dashboard. You can also accurately track advanced data like SEO Score, Focus Keywords, Affiliate links, Tags & Categories, Referral Channels, and many more. 
The tool is remarkable in terms of features, support, performance and comprises all the requirements of any analytics plugin platform for a smooth Google analytics experience.
How to set up MonsterInsights on WordPress?
The setting up process to connect MonsterInsights to WordPress is very easy and even a beginner can do it in a few minutes. There is no prerequisite technical skill or coding knowledge required. 
Steps to set up MonsterInsights:
Go to the website,

https://www.monsterinsights.com/

, and log in. Once done, go to the Download tab to download the plugin. You will find the license key on the left side, save this as we need it in the next step to activate the plugin.
Open WordPress and install MonsterInsights as a new plugin. Once activated, you will get a welcome message. Click on Launch the Wizard! to set up the wizard. 
Next page will give you detailed instructions to configure MonsterInsights for Google Analytics. Choose your website category. Click on Continue and Save.

On the next page, insert the license key for verification and enable automatic plugin updates. Click on, Connect MonsterInsights button to connect to your Google Analytics account. 
You get a pop-up box to Sign in with your Google account and allow MonsterInsights to obtain your website profile. 
Choose your desired profile to connect and click on Complete Connection to apply the changes.
Install all the recommended add-ons to track forms, individual posts, ad clicks, etc. 
Finally, the configuration process is complete for Google Analytics. Exit wizard and go back to the WordPress dashboard. 
Features of MonsterInsights
MonsterInsights is the best Google Analytics plugin for WordPress. It comprises numerous features that make it the most powerful and user-friendly WordPress analytics plugin in the market.
The diverse features are spread across,
Analytics Tracking

Custom Reports

Integrations
MonsterInsights is simple to set up and can be used very easily. The user interface is also user friendly that makes it one of the Best WordPress Analytics Plugin 
Some of the features under Analytics Tracking can be explained as,
Universal Tracking
The plugin sets up universal website tracking across campaigns and devices. It offers the most accurate data than any other Google Analytics plugin. 
Affiliate Link Tracking
MonsterInsights Affiliate Link Tracking helps track affiliate links with Google Analytics for affiliate marketers and bloggers. 
Forms Tracking
All your WordPress forms can be easily tracked with MonsterInsights form tracking. You can access conversion rates, submissions, data views, and more such data about your forms.
Google AMP Tracking
In the case of Google AMP usage, then it is necessary to track your AMP pages to get their analytical data. Mobile users can be easily tracked with the help of MonsterInsights Google AMP Tracking.
Focus Keyword Tracking
For Yoast SEO users, the MonsterInsights plugin helps segment your traffic with the help of focus keywords.
Analytics Overview Report
You can see the most important Google Analytics data in a simple way right inside the WordPress dashboard.
Real-Time Report
Get a whole lot of information such as who all are online, what are they doing, their location, etc with the report.
WooCommerce
You can get complete WooCommerce Analytics in a single dashboard conveniently without any coding.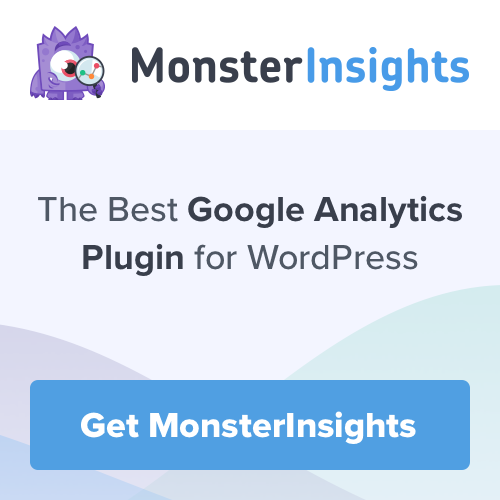 Why do you need MonsterInsights?
MonsterInsights is a must-try plugin because,
It is easy to set up and use the Google Analytics plugin.

You can find analytics reports in WordPress

There are advanced tracking options.

The analytics report is easy to understand 
MonsterInsights Pricing Plans
MonsterInsights comes with three pricing plans, Plus, Pro, and Agency.
MonsterInsights Plus – $199/ year
Suitable for businesses and publishers with limited budgets, single sites, and at the growth level.
MonsterInsights Pro – $399/year
Usually for eCommerce sites and businesses who expect big results in a small time. You get to use all features of the Plus plan and can be used on five sites.
MonsterInsights Agency – $799/year
It is useful for marketing and web development agencies to speed up their marketing process. You get all features of the Pro plan and can be used on twenty-five sites.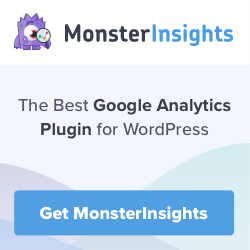 Pros of using MonsterInsights
MonsterInsights is a vital WordPress plugin useful in discovering new growth opportunities and boosting revenues. Some of the important merits of using MonsterInsights are,
Easy to use process from plugin to report generation.

Tracks tags, category, and popular authors, focus keyword, SEO score, and many more dimensions.

Monitors and optimizes individual posts by displaying top landing pages with the number of website visitors, bounce rate, time spent on a webpage, and many other insights.

Tracks outbound links including phone links, affiliate links, anchor links, mail links, etc.

Discover the most selling products that generate most of your profits.

Searches and displays most popular posts and encourages visitors to click on links that promote trending content or products.

Detects the topmost traffic source points for websites and top referral sources that divert most visitors to your page.

MonsterInsights can be integrated with popular tools and WordPress plugins for extended functionalities.

It can track and display form statistics for the smooth functioning of a business.

The tool audits your website and provides performance reports with suggestions for improvement so you can optimize pages to enhance performance.

Comprises priority customer support to quickly fix your complaints and resolve queries without any delay. 
Cons of using MonsterInsights
The Free plan is limited as most of the features are restricted to the Pro plan that might be disappointing to the Free plan users.

The plugin is quite pricey as compared to other plugin tools.
Read some latest reviews,
Oribi.io Review 2021 + 10 Days Free Trial: Is It A Good Replacement For Google Analytics?
Mobile Phone Tracking Software: SpyFone Review 2021
Final Thoughts
MonsterInsights is the best Best WordPress Analytics Plugin. The amazing part is you need not be an expert at Google Analytics and you can manage all your analytics reports from your WordPress dashboard. 
This Top analytics plugin adds more value to your marketing endeavors with its integrations and powerful statistics. As every marketer yearns, the tool discovers new products or content along with accurate information about visitors and maximizes your organic page visits. 
In the MonsterInsights Review, we have discussed the overall aspects of the Google Analytics Plugin for WordPress that will help you make the right decision. 
If you found this article helpful, do share it and let us know if you need any more assistance.